The Beginning
In 1988 Bob Brennan, CEO of International Office Technologies, began his career in the printer industry. Working as an independent sales representative for a startup company, he provided recycled and re-inked printer ribbons to businesses across the Twin Cities. In 1995 Bob decided to strike out on his own and create International Office Technologies, Inc.
With a business model mapped out, he set up shop in the basement of his parents home, in West Saint Paul, MN. In between home cooked lunches and visits from the family dog he began to develop a total solution that could provide customers with both printer supplies and service & repair. He called it the Total Laser Care (TLC) Program and began introducing it to companies all over St. Paul and Minneapolis.
The Evolution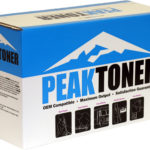 In 1996 IOT hired his it's first employee and relocated to an office in Mendota Heights, MN. The business continued to grow over the next couple years, and with expanded customers and employees, we quickly outgrew the location. In 1998 we moved to Eagan, MN into larger offices, with ample warehouse space.
In 1999 IOT created and released the PEAKTONER brand of toner cartridges. Although many other brands of toner were available in the market, PEAKTONER was launched as a product of high quality, rather than low cost. No corners were cut and only the best materials were used. PEAKTONER quickly took off and was well received by IOT's business and professional clients.
Ten years later, in 2009, IOT introduced a new division focused on computer repairs.  This new division was called Helpertech, and was "consumer" focused, to compliment IOT's existing business-to-business model.
Moving to a new location in Eagan, right on Highway 13, IOT quickly gained the the business of the surrounding community.  With a large digital LED sign as a landmark on Highway 13, IOT was cemented in the local community as a resource for fast and friendly computer repair.
With the evolution of smartphone and tablet devices, IOT started offering mobile device repair for these devices two years later in 2011.
In 2016 IOT saw major changes to it's structure.  The Helpertech computer and phone repair division was moved, and opened in two retail locations – Eagan and Burnsville – to better serve customers.  The corporate headquarters and business-to-business division were relocated just down the road in Eagan, too.
To Be Continued..With You!
Join our team!  Check out our current job openings and see if there is a fit for you.  We're looking for great people to help us do great things!